Tis the season for spring cleaning! This year the seasonal tidy has been made more intense by this year's Coronavirus outbreak. So what's a girl with severe asthma and an aversion to harsh chemicals to do? Here is my toxin free spring cleaning routine!
Whether you buy into the hype or not, I think we can all agree that it's not a bad idea to use some common sense with hand washing and cleaning our homes. As someone who tries to limit the toxins I am exposed to, and as someone with severe asthma, I am not going out to clear the shelves of bleach or Lysol. But as a germaphobe with OCD and underlying conditions, I want to make sure my home is clean and disinfected! 
My Cleaning

I have talked about my cleaning routine before, and you definitely want to start with an already-clean room! These are a few areas I concentrate on for spring cleaning.
Living Area
My least-favorite but most-rewarding spring cleaning task is cleaning the baseboards. I have a bad back, so getting down to clean them is difficult at best. I start by putting the brush attachment on my vacuum and going over them. Then I wipe them down with a solution of warm water and Dr. Bronner's soap. If getting down on your knees is hard for you, an old sock or rag attached to a broom handle works!
I also like to pull all the furniture away from the walls and vacuum underneath it. Its unbelievable to me how dirty this gets when it's predominantly just me in the house! Vacuum under couch cushions while you're at it.
Dusting is a weekly affair, but for spring cleaning I like to make sure I dust all the nooks and crannies I don't ordinarily bother with, like inside of cabinets and drawers. I also clean out my windowsills with the same Dr. Bronners and water mixture I used on the baseboards.
If you have carpet, this is a great time to clean it. Knock down cobwebs, clean the windows, declutter, clean your mattress.
Click on the printable below to print and check off tasks as you go!
My Cleaning

What truly makes this routine toxin-free are the cleaning products I use. I am really particular and a huge germaphobe, so it has taken me years to find to find the best products that keep my home clean without aggravating my asthma. Here are some of my favorites. 
Force Of Nature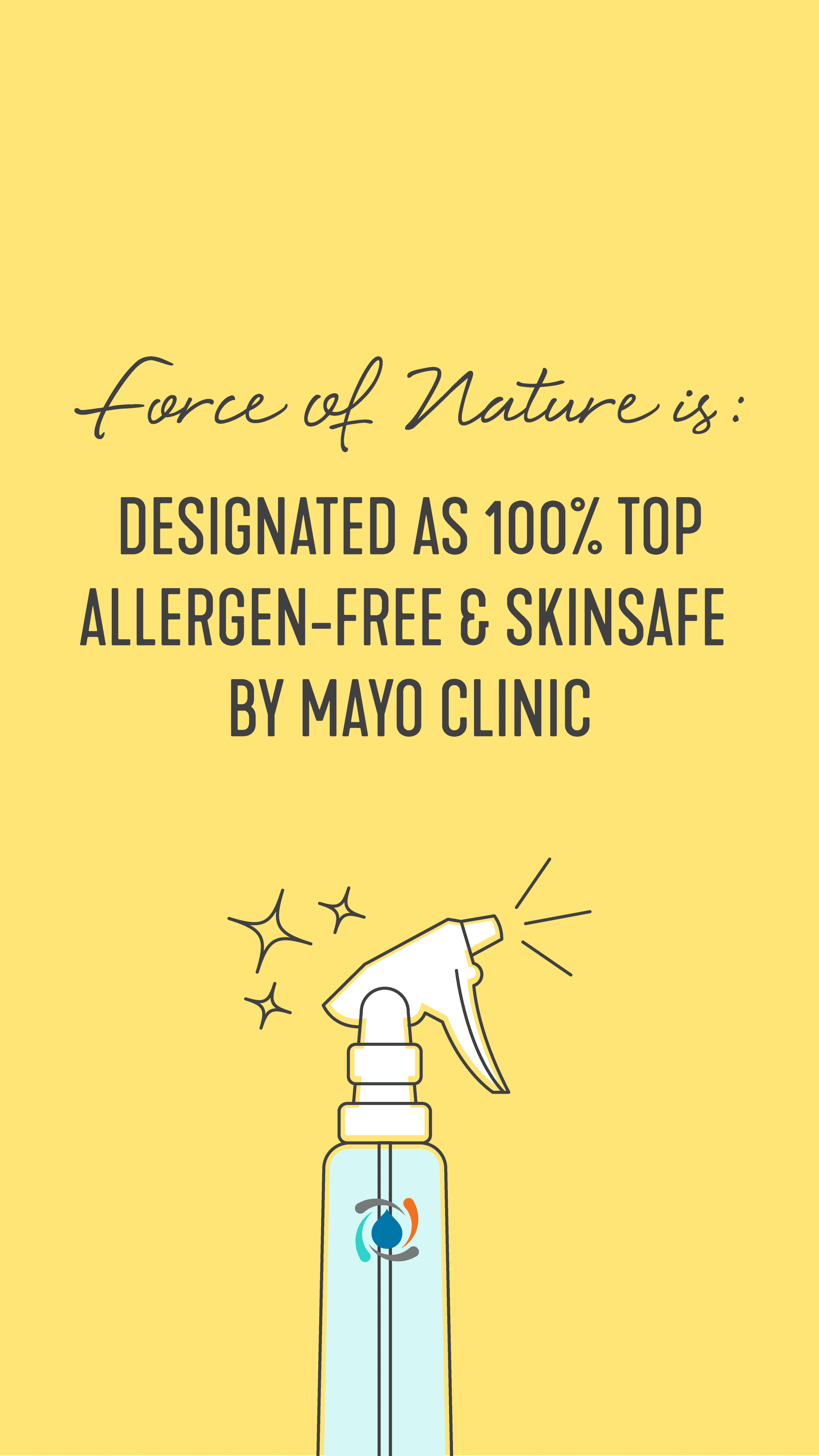 I've talked about Force of Nature cleaner may times here and on my YouTube channel because it is hands down my favorite product! I'm amazed at how effective it is with absolutely no toxic ingredients. Force of Nature is an EPA registered, broad spectrum disinfectant that has demonstrated effectiveness against viruses similar to COVID-19 on hard, non-porous surfaces. Therefore, Force of Nature can be used against COVID-19 when used in accordance with the directions for use against Norovirus on hard non-porous surfaces (refer to the CDC website for additional information). This is the real deal.
All of the details about the science behind how and why this works so well can be found here. I love that you can use this on virtually any surface, even glass. It is my go-to for doorknobs, countertops, appliance handles, and of course the bathroom. I also use it to remove odors from the carpet and upholstered furniture. Don't forget to wipe down your remote controls, too.
Use the code SANITIZE for 50% off a starter kit and free shipping, or SANITIZE40 for 40% year supply bundles.
DIY Surface Cleaner
I clean almost all of my surfaces from counters, to floors to car interiors with a DIY mix of Dr. Bronner's Castile soap, water, and some essential oils. I eyeball it, but depending on the size of your bottle a tablespoon or so of Dr. Bronners is plenty. Then fill. the rest with water and add about 20 drops of whatever essential oil you prefer. I usually add Thieves because it smells good with my peppermint Dr. Bronners!
Stainless Steel Cleaner
One finishing touch that really makes things look clean is polishing all of the stainless steel and metallic surfaces. There are a lot of DIY recipes out there, but I didn't love how they worked. I found this Howard Natural Stainless Steel Cleaner on Amazon and I am obsessed! I actually don't have stainless appliances, but I use this on my sink every night, my Propur filter, and all of my stainless garbage cans. Look at that shine!
I know we are in some scary times right now, and it can be easy to give into panic and want to take a bath in bleach. But you can keep your home clean and disinfected with a toxin free spring cleaning routine!